My daughter's birthday again raised desires of dressmaking (specifically a tiered peasant dress) deep in my soul. She turned 5 years old this year and is maturing faster than she is aging. I wish we could put a load of bricks on her head to keep her from growing up. I'm doing my best to enjoy my time with her while she still wants to do things with Dad.
I figured with the advancements she's made over the last year, the dress I made ought to reflect the advancements my sewing has made over the last year as well. (You can read about last year's dress here.) I had some ideas of what I wanted to do with this dress and thought maybe I would just make it from scratch without a pattern.
Some of my criteria: she wanted a Disney's Frozen themed party (again).
So, I wanted to make her dress match the theme, but I couldn't find any licensed fabric locally and didn't want the hassle of ordering it online.
Also, I wanted to make a tiered dress. To make things more fun, I decided to make the skirt patchwork as well. I also wanted many gathers and much frilly wonderfulness to make this dress as "fancy" as possible.
This dress had to be on the warmer side as her birthday is in April in Michigan. We're still under winter storm advisories in April (I wish this was one of my witty jokes;) ). I had some other ideas that I did not end up incorporating into this make.
Maybe next time they'll come to fruition.
After much online research that incorporated all the elements I had in mind, I found a pattern that came pretty darn close. The pattern I ended up going with was a tiered peasant dress pattern I purchased from Etsy as a digital download. It was Noel's Patchwork Dress by Create Kids Couture. (this is NOT an affiliate link, I get nothing if you make a purchase.)
This pattern had a few more pieces and required some skills I hadn't yet acquired (not a bad thing as I'm always trying to expand my skills). In hindsight, I wish I had read the sales description better. In the pattern description was the following:
"We prefer to give measurements for simple rectangles instead of rectangular pattern pieces to save your time, paper, ink, and tape. You will only receive pattern pieces for curved portions of the garment, and you will follow the cutting chart for the remaining pieces"
When I skimmed the description, I didn't quite understand what this meant but I found out after I downloaded the pattern.
It means that most of the pieces in this pattern are measured out and cut, rather than printed out pattern pieces that you must cut and piece together.
When I read it the first time, I assumed the bodice pattern would be included (since it had curved portions). It ended up being a rectangle, the pattern piece that was included was the negative space. So, it covered the part that would be cut out rather than the bodice itself. In my opinion this would have been easier as a normal pattern piece.
I'm not saying this is a terrible thing and I hate the pattern. I just was a bit taken aback when I discovered this. Then I went back and re-read the description and sure enough it stated this. My fault for rushing.
It didn't end up being that big of a deal though, and I wouldn't discourage someone from purchasing this pattern because of this. It's a great pattern, simple to follow and easy to understand. Although, I will point out that using a rotary cutter and mat is a much easier way to cut this type of pattern out.
Cutting out rectangles with scissors is more challenging. 
I'm very methodical when making clothing. I like to take my time and make something quality rather than rushing and making something quickly. This tiered peasant dress was just the thing for me. I spent some time cutting out the many aspects of the dress. In fact, it had 12 pieces for each tier, and had 3 tiers. It had a ruffle at the bottom that was comprised of 6 pieces. The bodice had 2 pieces and the sleeves were each 1 piece. The final touch was a sash that tied around the waist (2 pieces). 48 total pieces if I did my math correctly (no guarantees).
After the cutting, I began piecing the ruffle by stitching the pieces end to end. Then I moved on and stitched all the other sections the same way. When I finished piecing, I had 4 loops. Then I started at the ruffle and gathered it using 1 stitch line around the top. Once gathered evenly I sewed it to the bottom of the next tier. After gathering and sewing all the tiers I had a completed skirt. Yay!
Next, I sewed the bodice pieces together and added the sleeves.
After I got them sewed, they looked a little big. I reviewed the pattern knowing there was some elastic somewhere within this make and I discovered something. Shirring. Let me just say that I am extremely happy this pattern gave the option for shirring. I didn't know what it was previously and after watching a few YouTube videos I'm amazed by this amazing stitching.
For those of you who don't know what shirring is there are a few ways to achieve it but the way I did it was to use elastic thread on the bobbin and just sew a normal stitch. You sew multiple rows about 1/4″ apart and they magically gather the fabric into a stretchy, fancy, amazing thing. It is what created the sleeve cuffs and the gathering around the neckline. My only problem with this was that I used cheap elastic thread from our local Walmart. It was low quality and didn't have good stretch. It worked, but I would have liked more stretch from it.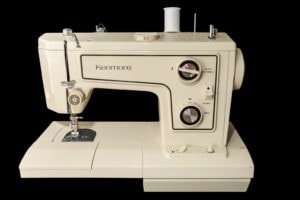 One challenge I had to overcome during this make was my sewing machine. I use a vintage Kenmore (you can read more here). I had numerous problems with it during this project. It wouldn't sew properly and would skip stitches. I troubleshooted it but was wasting more time than I could afford and complete the dress by my daughter's birthday. So, I ended up borrowing my mom's machine to finish up the project. 
I never did end up being able to repair the machine this time so I purchased a new one.
You can read my article about my process here, and find out what I chose. 🙂
Overall this tiered peasant dress was a really fun project. One caveat this year was that I was planning to give it to her for her birthday, so I had to make it without her knowing. This meant lots of late nights staying up sewing after Nora went to bed. It also meant extra weekends at Grandma's.
I would leave little bits of the thread from cutting the material on the floor and see if she noticed. (I had to set up the machine at the kitchen table as I lost my dedicated sewing space with the birth of our son.) She did not notice, so on the day I was planning to give it to her I pointed it out and asked what it was.
She didn't really know so I told her it was unicorn poop because it was rainbow colors. The kiddo didn't believe me at first, but I had her convinced before too long 😀 (not really, she's too smart for that). She had a really good birthday and really enjoyed her dress. Let me know what you think in the comments.