This is the third year in a row I've made my daughter a birthday dress. You can read my posts about the first one How To Make A Jumper Dress and the second one How To Make A Tiered Peasant Dress. (Also, I have a post about the most Essential Items for the Sewing Room for those looking to get started) Fiesta Frock
I started searching for dress ideas in March so I'd have plenty of time before her late April birthday. It took much longer to choose something this year.
I wanted something a little more challenging and elegant.
I picked out about 4 different patterns, and I showed them to the girly and let her choose the one she wanted. She was sure as soon as she saw the Fiesta Frock from Blank Slate Patterns that it was the dress she wanted.
I wasn't as sure as she was, because it wasn't my top choice. After looking at them all again, I decided to get it. The purchase process was straight forward and smooth. I downloaded the PDF and read through the whole thing.
Then I opened the PDF into Adobe Acrobat and set the print settings according to the recommendations. The PDF printed flawlessly. I taped the pieces together and cut out the size I measured for my daughter. (I didn't trace to preserve the pattern, I'll just reprint it if I decide to make it again.)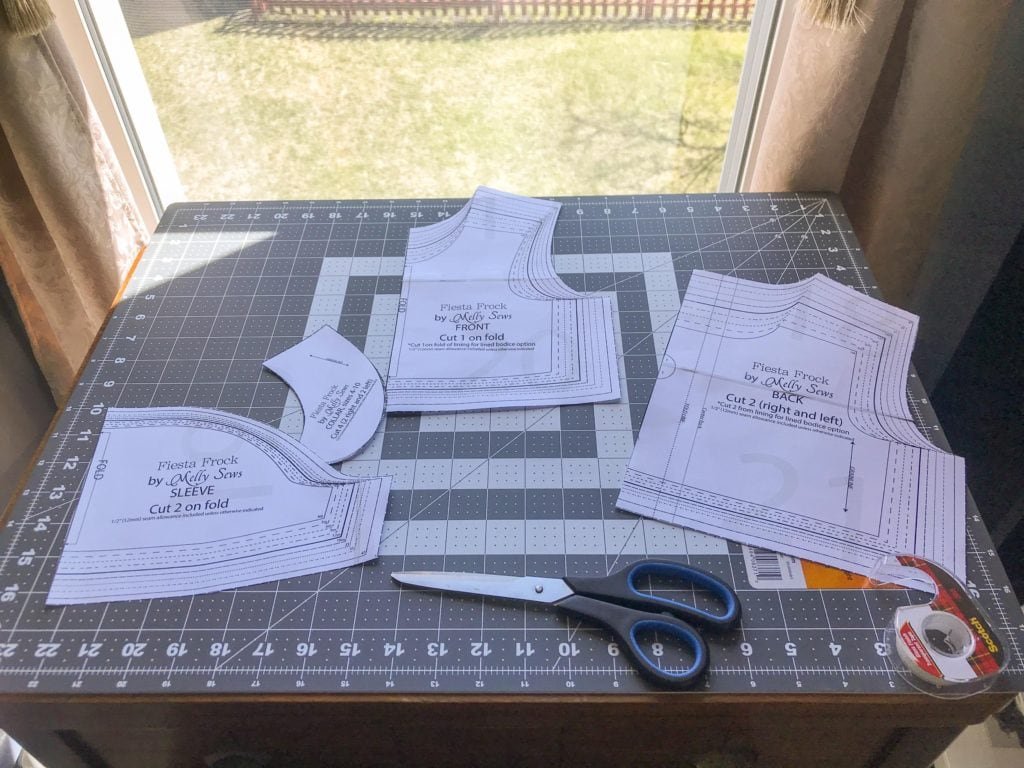 We had some fabric picked out for this dress at one time, but when we decided on the pattern we realized the fabric we picked wouldn't be a good fit for the pattern.
After searching through the stash, we selected a different fabric. We also chose an accent fabric for the collar and made our own bias tape.
As soon as we had selected the new fabric, I got started cutting out the pieces.
The Fiesta Frock pattern was easy to cut out and easy to sew together.
It's rated for advanced beginner to intermediate. I consider myself an intermediate sewist and I found the pattern to be easy to follow.
I had one little bit of confusion on step 7. The picture was a little hard to interpret, and I had already completed the step. That left me unsure of what was being asked of me. Once I stopped looking at the picture and focused on the written instructions, I realized I had already completed the step and was just wasting time staring at it. This was totally my own fault though. Not an issue with the pattern.
As opposed to previous years, this years dress was not a surprise. As I was working she would come in and check on me and see how things were going. I would take these opportunities to check the fit by making her try it on.
I wanted to focus a little more on fit this time. The last two dresses I picked a size that was close and made it. In my opinion, the fit wasn't the greatest. Both were significantly too big for her and this time I wanted to make sure it fit her perfectly.
I failed.
While the dress fits her much better this time than the last two, it's still not as good as I was hoping for. She measured a 4T in her chest and waste but in here hips a size 5. I opted to keep the whole thing easy by going with the size 5 knowing she could wear it an extra year.
But, I was disappointed with the fit as the bodice seemed about 2 sizes too big. I should have done the pattern grade and made it to her measurements. But it's ok. It still fit better than the previous two so improvement was made.
The day before her birthday, the girly asked me where her dress would be the next day. She had all the accessories laid out and ready to go and wanted to know where to find the dress. She was quite persistent too. I told her I didn't know, since it wasn't completed yet.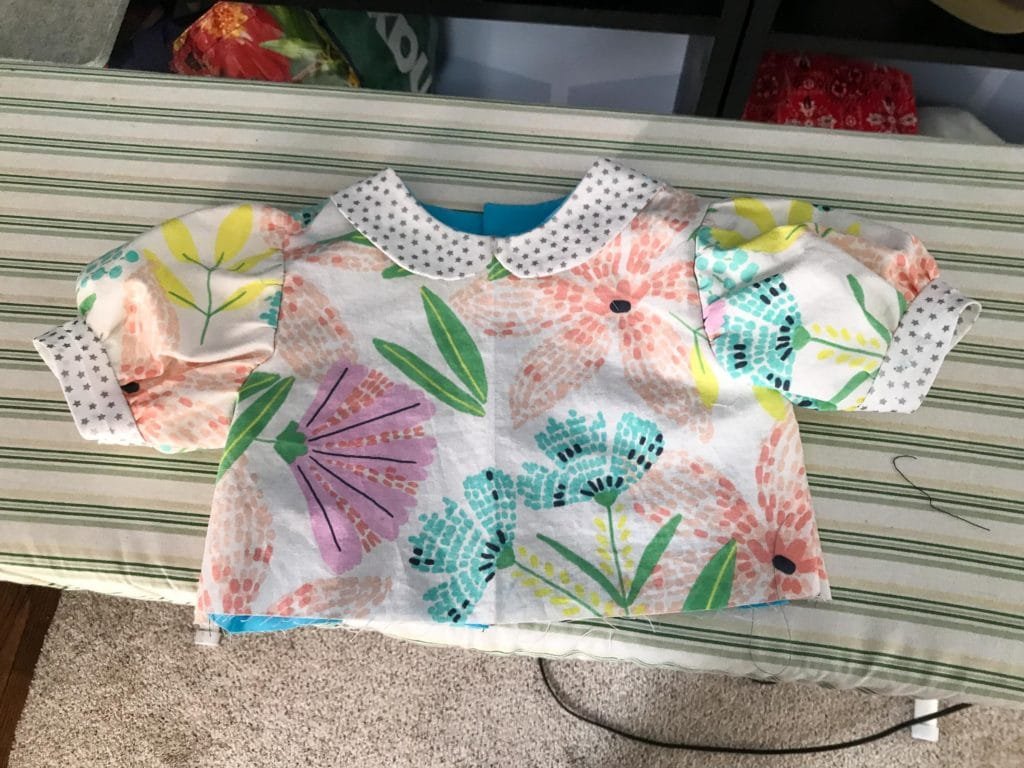 I was hoping to get it done in time.
In the previous years, I made them as a surprise so I started sooner and worked at night when I had spare time. This year I couldn't make up my mind and got a later than usual start on the sewing.
About 11:30 the night before I sewed the last button on the dress. I also hand stitched the bias tape sleeves. One option was to machine stitch in the ditch, but I opted for hand sewing. For some reason hand sewing has an appeal to me. It's simpler. I don't know. It seems like I'm putting more of myself into the garment.
Not that I don't like machine sewing. I very much do. It's just that there's a connection to the garment you don't get at high speeds I guess. I also like woodworking and prefer hand tools to power tools. I think it's about slowing down and really working with the medium by hand rather than just powering through it.
The morning of her birthday, I woke up and decided to redo the hem on the skirt. I sewed it with a contrasting thread and decided afterwards I didn't like it. So, I just rolled the hem one more time and resewed it with a matching thread.
I really liked sewing up this pattern.
During the time when I was stuck and trying figure everything out, I reached out to Melissa from Blank Slate Patterns for clarification and guidance. She responded almost immediately.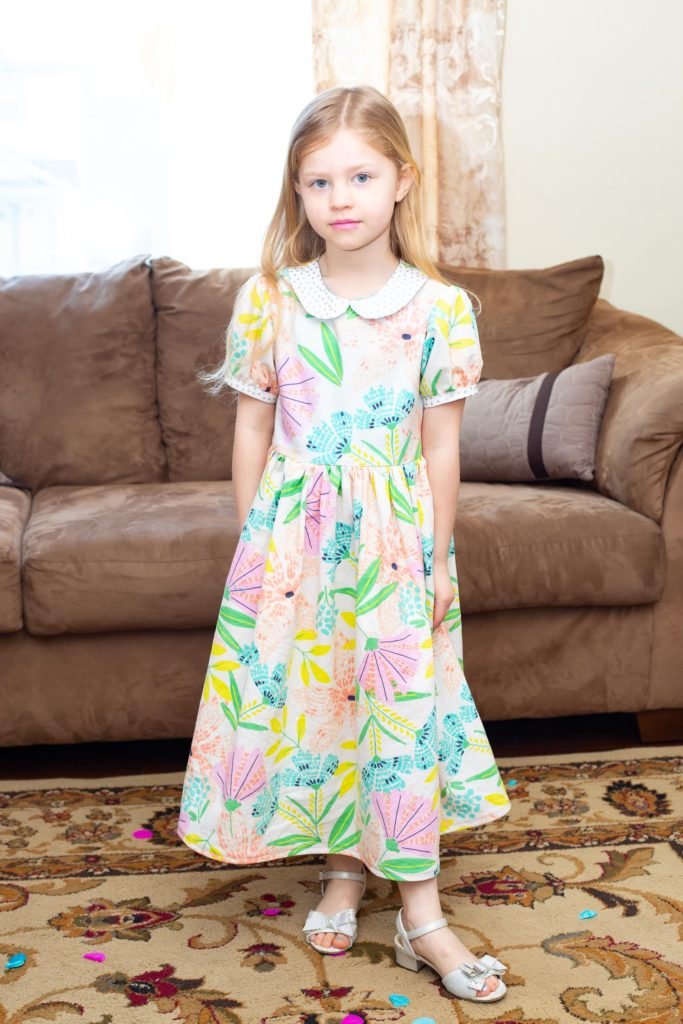 Having the ability to reach out to the pattern designer and get a speedy response speaks volumes to her business. She's not just there to make a buck, she's there to provide a quality product and support it. 5 stars in my book.
From start to finish this pattern has been a pleasure to sew. I would definitely buy another pattern from Blank Slate Patterns.
And on top of that, the girly loved her dress.
She said it's the best and fanciest one yet. My goal each year is to up my game. Each one should be better than the last. Not just the final outcome, but the difficulty as well. (this is a personal goal)
The Fiesta Frock by Blank Slate Patterns has definitely been a wonderful sew. I had lots of fun and stretched my skills in the process. I will sew this dress again someday.